No fancy arithmetic here. We have accurate and honest pricing that saves time and money. There are no other fees. Don't be fooled by on the phone estimates.
We value your time as much as our own. That is why we keep our arrival windows at 2 hours or less and in many cases eliminate them altogether.
Once your move is confirmed you'll never have to wonder what's happening. We stay in constant contact with emails and calls before, during, and after the move.
ON-SITE & IN-HOME FREE ESTIMATES
No matter the job, we come to you for our in-person and in-home estimate – so there are no hidden fees – and you get an honest accurate price.  
SAME EMPLOYEES ROUND-TRIP
We don't just hire anyone. Our employees are highly vetted. We are a great team. It's the same employees that load and unload. We are with you from the beginning to the end.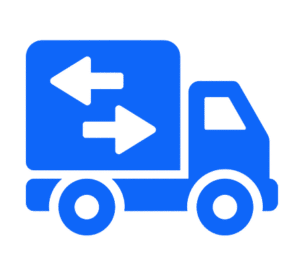 WE OWN ALL OF OUR TRUCKS & EQUIPMENT
We don't go out and rent trucks to move you. We own all our vehicles so we know them inside and out. They are clean, well maintained, and insured.
ALL FURNITURES IS SHRINK WRAPPED
All furniture professionally padded and shrink wrapped as a standard on every job to carefully reduce any damage – especially on those corners!
You can't start packing without boxes! We give you FREE: 2 Wardrobe boxes, 3 Dish Packs, 5 Book Boxes, 5 Medium Boxes, and Tape!
NOT ALL MOVERS ARE THE SAME
Beware of over-the-phone estimates! Dishonest movers will tack on fees at the end. Ghost-movers show up in rented vehicles and hire unvetted help to unload once they arrive.